Ethnicity and Imagined Boxes
Ethnicity has been weaponized as a tool for exclusion in Nigeria; practically everything in Nigerian politics rises and falls on the altar of ethnicity, from the selection/zoning of political offices, public office appointments, recruitment and posting of staff, among several others. One may have difficulty identifying merit-based opportunities in the country. Nepotism and prebendal politics gained traction from ethnic identity, which explains why citizens first identify with their ethnic origin, before being a Nigerian. In the local parlance, people make comments like "I am first Igbo/Yoruba/Hausa before a Nigerian". Can there be one Nigeria without unity?
Ethnicity is a social phenomenon associated with interaction among members of different ethnic groups, distinguished by communal character. Ethnicity centers on exclusion of non-members through language and other shared attributes. By virtue of an individual's name, identity is ascribed, when any Nigerian calls his/her name, it has been wired in us to trace his/her ethnic origin through the surname, one may further inquire of the LGA and kinsmen, if closely related, then the exclamation "see my brother/sister". You may be familiar with the analogy "son of the soil", which is equally ascribed to individuals. By virtue of speaking a common language or sharing one's place of origin, individuals warm up to others, and determine if an individual will benefit or be excluded. With over 150 ethnic groups in Nigeria, imagine the level of exclusion and unity among groups, as well as, the conflict for available scarce resources. Take a step back and look at Nigeria as that country with millions of people divided and united across over 150 groups, each group fighting and waiting for the best opportunity to capture power, determine who gets what and have people from his/her ethnic group in the corridors of power.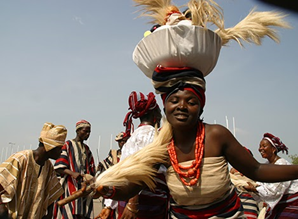 Couple of weeks back, I overheard an argument between two drivers, one from Enugu state and another from Anambra state. In the heat of the argument, the driver from Enugu told the other from Anambra to go back to his state of origin. If two persons from the same ethic group (but different sub-groups) hold such views, what is the fate of those from different ethnic groups in Nigeria? Recall that in the early 1990s, civil servants in the South East who were not indigenes of their state of residence were sacked given that they are not sons of the soil, therefore they should not benefit from scarce state resources.  While this has characterized social relations among ethnic groups and sub-groups, to what extent is there unity in diversity if a citizen cannot thrive wherever he/she is, based on merit, having equal rights and access to opportunities?
While the federal character has failed in creating a sense of belonging, ethnic politics has negatively affected growth and development in Nigeria. The absence of accurate population figures in Nigeria since independence is traceable to ethnicity. Governance in Nigeria is not devoid of ethnic sentiments, from electoral processes -selection of aspirants, voting pattern and the selection of political appointees, allocation of capital projects etc. There is often a breakdown of federal and state government capital expenditure across regions/ethnic groups, with the sole aim of crying wolf. A former President, who was accused of being ethnic biased, advised the masses to surround themselves with their enemies when elected. This begs the question, are members of other ethnic groups and non-cronies, enemies?
Relevance of food insecurity to development cannot be over emphasized, which explains why goal 2 of the Sustainable Development Goals (SDGs) is built on attaining the production, access and availability of agricultural products in developing countries. Economics courses back in university days attributed poor performance of the agricultural sector to corruption and Dutch disease syndrome. In recent days, we realize that ethnic politics greatly contribute to poor food production in Nigeria. Wonder how ethnicity affects agric production? Agriculture in Nigeria is dominated by small scale farmers who can not afford to fence their acres/hectares of land, therefore are at risk of either losing their crops to or in conflict with herders. After battling the Land Use Act in accessing land for agricultural purposes, a farmer must warm up to herders who will surely come to every unfenced arable land. Any attempt to protect one's farm investment is viewed as an affront to the group. Someone's investment is another's loot and any means of seeking redress is viewed from ethnic lenses. A good instance is the Oyo state farmer/herder crisis which escalated into a food blockade from Northern to Southern Nigeria. The resolution of Southern Governors to ban open grazing in the South given its security implication and threat to investment of small hold farmers, was greeted with counter-attack by powers that be, who reminded another group of their hold in motor spare parts in Northern Nigeria. Nothing is being attributed here to any quarter, but the witches cried, Ibadan and Lagos spare parts market was gutted by fire. Be it coincidence or poor safety measures, ethnicity has eaten deep into our orientation as a people.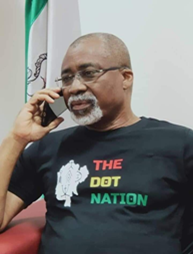 "Onye Dot" an offshoot of the President's remark about a group has been trending on social media and has reinforced ethnic identity over national identity which defies "peace and unity" contained in the last line, 1st stanza of our national anthem. Where is the unity when the oil from the South serves the nation, while the gold from the Zamfara and other Northern states are explored by a group? The End SARS movement in late 2020, the unfortunate death of a Northern party stalwart in the South was initially interpreted under ethnic lens, the ban of open grazing in the South, among several instances, saw to the deployment of ethnic lenses.  Consciously or unconsciously, every Nigerian is put in a box, one which determines his/her acceptance or exclusion, walking into any space in Nigeria, one stands the risk of being stereotyped, labeled and excluded, due to an identity they have no choice over, but given away by their names, an inquiry into their religious affiliation and place of origin.
Can we have a Nigeria in which an individual's identity doesn't matter, why ask someone of his local government of origin and religious affiliation during documentation exercises? By asking the above, everyone is put in a box, either you are in this group or another. Rwanda suffered the brunt of ethnicity and today is revered economically in Africa given her pace of economic development, although with salient unresolved issues. Taking a positive leaf from Rwanda, can Nigeria identify and implement what works for all parties without the use of threat and or violence?
"No one is more Nigerian than the other"- Aisha Yesufu
Chukwuanu Chukwunonso Okoli